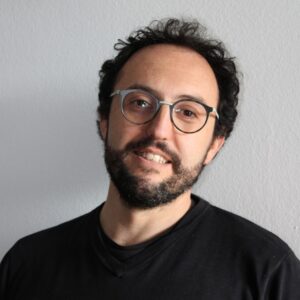 Docente a contratto
Docente
Profilo biografico
Alessandro Pollini è ricercatore e designer con background in fattori umani, HCI e interaction design. Ha sviluppato in carriera una prassi interdisciplinare strutturando l'attività progettuale in molteplici ambiti, dalla ricerca utente in ergonomia e scienze cognitive; alle teorie e i metodi del design del prodotto digitale nei piani tecnologico-implementativi, funzionali, formali e d'uso e nelle relazioni con il contesto nel quale è inserito. La sua attività di ricerca e progettazione è prevalentemente rivolta agli artefatti cognitivi, relazionali, interattivi, produttivi e alle strutture relazionali e di servizio.
Dal 2017 è docente di Design dei Processi – Laurea Magistrale in Advanced Design all'Università di Bologna e dal 2019 è docente in Human Factors – Laurea Magistrale in Interaction Design all'Università degli Studi della Repubblica di San Marino. Tiene, inoltre, lezioni e seminari in Scuole come quella della TAG Talent Garden Innovation School, dello IED Firenze e della Fondazione ITS a Milano e Roma. Dal 2005 scrive su riviste scientifiche di settore e partecipa a conferenze nazionali e internazionali.
Dal 2013 è partner in BSD design, studio di ricerca e progettazione nel campo dell'HCI, dei Fattori umani e dell'Interaction Design, con Donald Norman come Advisor.  In questa veste ha seguito progetti di ricerca regionali, nazionali e EU in framework legati all'innovazione ICT, alla sicurezza, alla mobilità e trasporti, alla Smart City e all'Ageing Well.
Pubblicazioni
Pollini, A., Callari, T., Tedeschi, A., Ruscio, D., Save, L., Chiarugi, F., Guerri, D. (2020) Leveraging Human Factors in Cybersecurity: An integrated methodological approach. In Cognition, Technology and Work. Submitted.
Garito, M.A., Pollini, A., Caforio, A., (2020) Design-driven co-creation for migrants integration in European Cities. In Van Praag, L. (2020) Co-creation in migration research and policy making. Leuven University Press. Submitted.
Suijkerbuijk, S., Abdel Alim, L., Bevilacqua, R., Felici., E.., Rossi, L., Casaccia, S., Scalise., L., Pollini, A., Swaminathan, S., & Astell A. (2020) How do people living with subjective cognitive impairments want to get support in resilience? Gerontechnology 2020;19 Accepted.
Pollini, A., Mesenzani, M., Verioli, A., a cura di. (2019) Design-driven User-centred Innovation. Effigi, C&P Adver.
Bagnara, S., Pollini, A., Sinni, G. (2018) W_SCUOLA: DESIGN PER LA SCUOLA ITALIANA. Il contatto con la comunità scolastica: ricerca e analisi. Tuttoscuola. N. 586
Opromolla A., Volpi V., Pollini A., Verioli A., Mesenzani M., Medaglia C.M., (2017) Citizen involvement in public services design. The SPAC3 case study. To appear in the International Journal of Public Administration in the Digital Age (IJPADA)
Galatioto, F., Salvadori, C., Petracca, M., Pollini, A., Herrero, J., Santofimia, M. (2017) Smart cyber systems incorporating human-in-the-loop towards ergonomic and sustainable transport systems. In Transport Infrastructure and Systems: Proceedings of the AIIT International Congress on Transport Infrastructure and Systems (Rome, Italy, 10-12 April 2017). CRC Press, Taylor & Francis Group.
Giusti, L., Pollini, A., L., Casalegno, F., (2015) Rethinking Education for Sustainability: A Mobile Learning Approach. In Emerging Perspectives on the Design, Use, and Evaluation of Mobile and Handheld Devices. Edited by Joanna Lumsden, IGI Publishing.
Cano, J., Pollini, A., Falciani L., Thuran, U. (2015) Modeling Security Threats in the Airport domain through Adversarial Risk Analysis. Journal of Risk Research, 2015. DOI: 10.1080/13669877.2015.1057201
Shim, W., de Gramatica, M., Tedeschi, A., Pollini, A. (2015) Beliefs on quality and value of security measures in air transport. Guasti, P., Mansfeldova, Z., (2015) Price of Security: Interdisciplinary Approaches to the Interplay between Security, Economy and Society. Barbara Budrich Publishers, Leverkusen, Germany, ISBN 978-2-8474-0684-6
Pollini, A., Tedeschi, A., (2014) Socio-economics meets security for enhancing Airport protection. Cyber Security and Privacy Forum CSP Forum Conference 2014, Athens
Pollini, A. (2013) Supporting intense physical interaction in technology-enhanced therapeutic play. Special Issue on: "Whole Body Interaction: Applications, Case Studies, Evaluations and Critical Theory", International Journal of Art and Technology, 2013 Vol.6, No.4, pp.320 – 338. DOI: 10.1504/IJART.2013.058282
Cimino C., Paciello, M., Cersosimo, M., Pollini, A. (2010) Psychological Profile of Students Attending Counseling Services at Distance Teaching University. Procedia Social and Behavioral Sciences Journal
Pollini, A., (2010) Understanding Water Therapy. Designing interactive technologies for children with special needs. International Journal of Child and Adolescence Health, 2010, 3(1).
Marti, P., Giusti, L., Pollini, A., Rullo, A. (2009) Expressiveness in human-robot interaction. Proceedings of the CHItaly conference, June 17-19 2009, Rome, Italy. Published on IxD&A – Interaction Design & Architecture(s), "Design for the Future Experience" N. 5&6, 2009, pp93-98, ISSN 1826-9745, ISBN 978-88-88044-14-9 In: IxD&A – Interaction Design & Architecture(s), Design for the Future Experience, vol. 5/6 pp. 23 – 30. Special issue: Computer Human Interaction Italy 2009 – CHItaly'09 (Roma, 17-19 June 2009). ACM SIGCHI Italy (ed.). IxD&A, 2009.
Pollini A., (2009) A Theoretical Perspective on Social Agency, Journal of AI & Society: Volume 24, Issue 2, Pages 165 – 171
Pollini A., (2006) Robots come object-to-develop-with. Studio esplorativo sull'impiego di artefatti robotici nella pratica psicomotoria, in Tecnologie Didattiche, n°.38 Settembre 2006, ITD-CNR, Genova, Italy.
Interessi di ricerca
Le sue aree di ricerca rappresentano la varietà di competenze consolidate che può sperimentare in progetti di ricerca applicata e sviluppo sperimentale di artefatti interattivi:
– Human machine interaction design & Human-centred automation
– Conversational Agents and Chatbot design
– Disegno dei processi in complex socio-technical systems
– Design for vulnerable persons